I went to Ireland in the summer of 2008 with my cousin.
We were to take the train to the ferry then on the other side of the Irish Channel we were to take the train from Belfast to Drogheda to meet up with friends of ours.
Usually, I'd have booked flights to Dublin and then gone through to Drogheda from there which would have been far quicker and probably cheaper too but the reasons for taking a route and travel methods that would make the overall journey a helluva lot longer was that basically, it would allow us to take in some of the country, breathe in that sea air and get completely pissed en route.
It had all been planned out diligently and there I stood, all bright-eyed and bushy-tailed in Central Station, in Glasgow's city centre that fine early August morning waiting for my cousin to arrive.
Anyway, he shows up at the station totally wrecked less than ten minutes before our train is scheduled to depart.
It turns out he'd been in the casino all night.
As he was pretty skint at the time I'd agreed to loan him some spending money for the journey as I was somewhat flush myself.
But that wouldn't be required as it turned out he'd won about £1700 or thereabouts playing blackjack and roulette whilst knocking back beers and vodkas all night.
After calling time on his successful gambling binge he'd headed home to get about an hours sleep and a change of clothes before hot tailing it down to the train station to meet me.
Safe to say he was in bits. You could smell the booze off him from about five hundred yards upwind and he looked exhausted both physically and emotionally.
But at least he'd made it.
The train was a nightmare. For some unbeknownst reason they'd only put two carriages on and it was overcrowded from the get-go.
Combine that with the temperatures for that time of year and it was like an oven.
With no space available we had to stand against the door with our bags pressed up against it. No chance of a drink or anything.
He had the fear big time and I mean BIG TIME!
I get it myself after heavy sessions and the last place you want to be is on busy public transport.
Ideally, you want to be locked up behind closed doors, with the blinds drawn, snoozing on your couch with takeaway food ordered for delivery.
Not on an overcowded Scotrail train on a balmy August morning.
By the time we got to Ayr – about 30 or so minutes in –  he was freaking out so much he had a panic attack which resulted in him suddenly running off the train.
I didn't know what to do. I tried beckoning him back as the other passengers looked on aghast but it was like that scene in Star Wars where they just make it out of the garbage compactor on the Death Star and Chewie refuses to go near it again.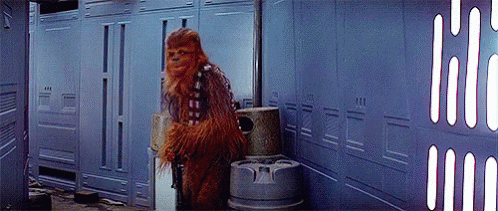 He'd left his bag and everything and the train was about to pull out of the station in a few minutes. So I grabbed it and followed him. I mean what the hell else could I do?
There was no chance of getting back on the train.
People were pushing forward on the platforms shouting at the conductor about the lack of spaces. The usual shit show from Scotrail.
I thought the holiday was, for want of a better word…….. f*cked.
We couldn't make it to the ferry port now as the next train would likely be equally as chaotic and wouldn' get us in on time in any case.
But remembering he was flush with cash from the previous night's winnings he said he'd pay for a taxi to Cairnryan even though it was over an hour away by car and would likely cost a fortune.
There was a line of black hackney taxi drivers sitting outside the station chatting amongst themselves which is usually the case when business is slow. I thought we'd struggle to find one who'd agreed to it unless we were willing to pay some exorbitant price.
To my surprise the first guy we asked said he'd do it for 90 quid.
SOLD!
It was actually a lovely ride down. Much more comfortable than the train. I guess you get what you pay for.
On the ferry over it was full of the Apprentice Boys of Derry who were heading to Derry funnily enough for their annual parade.
As you'd expect they were a bunch of bigoted knuckle-dragging morons who were even more low rent than the much larger and more notorious Orange Order.
They drank the ferry dry and succeeded in offending just about everyone on board during the sail.
That aside there was also a difficult moment when we were sitting down for a pint on one of the ferry's multiple bars that I realised I was staring straight at a girl who I'd had a brief encounter with at a friends house after we'd met at a nightclub the year before.
She had her mother and daughter with her and scampered off to the other side of the boat as soon as she recognised me.
I must have left a hell of an impression.
Alas, ships that pass in the night and avoid each other by day.
Anyway, it was some trip over and turned out to be a smashing weekend.
So good in fact I can't remember much from the journey back.
But I sure as hell can when it comes to how we got over.