Sweden 1 – 0 Switzerland
Sweden vs Switzerland was probably the least appetizing of the last 16 encounters on paper and it fairly lived up to it.
Not much to say here other than the Swedish women in the crowd looked hot – don't they always? – and a pretty tame and uneventful affair was settled via a deflected Emil Forsberg goal which was a pretty apt decider in this game.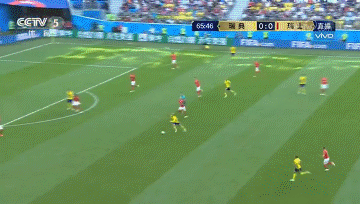 So Sweden is through to the quarters to face the winner of this evenings England vs Colombia encounter. Both will fancy their chances against a hard-working, resolute and determined Sweden team that appears to lack any kind of creativity on the pitch but a shed load of sex appeal, off it.
England 1 – 1 Colombia
(England win 4-3 on penalties)
So it's England vs Colombia and I'm watching this one on the couch.
It's on ITV which means the excruciating commentary of Clive Tyldesley and Glenn Hoddle.
You expect commentators to be biased for their home nation. It comes with the territory but these two just take it beyond the pale.
The usual bullshit of 'England expects!' is stated as the game kicks off and then we get down to it.
It's a poor game with neither team finding any rhythm. But according to Clive and Glenn England are, in fact, playing lovely football and the hammer throwers of Colombia are dead set on ruining a glorious occasion with underhanded tactics.
"Colombia are employing the dark arts," states Tyldesley. 
"They know we are the better team. They want to bring us down to their level." concurs Hoddle.
England takes the lead on 57 minutes after Carlos Sanchez wrestles Harry Kane to the deck at a corner kick and 'Arry steps up to convert. Sanchez is apparently under a death threat back home for giving away a penalty against Japan earlier in the tournament so I'd imagine this won't help his case.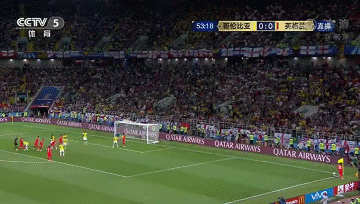 The game continues to trundle along thereafter and remains scrappy.
What stands out from the commentary is the complete double standards. Columbia are pretty naughty throughout and the commentators can't get enough of pointing it out. But Harry Maguire and Jesse Lingard both blatantly dive in the second half yet Hoddle admonishes both, Maguire in particular because he apparently indicated to the referee that his dive wasn't as a result of a foul though I'll spare him the purple heart as he committed this noble act after the referee had already waved play on. 
In the dying embers, everyone appears to believe it's over and are already planning England's tactics for their quarter-final against Sweden but then Yerry Mina blows that out of the water by heading the ball in off the deck from a corner.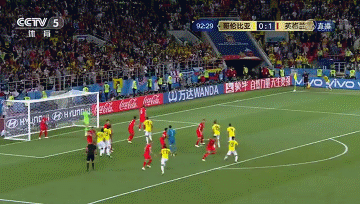 In extra-time, not much happens with Colombia looking the more likely to win it in the first period and the English looking more sprightly in the second.
Ashley Long goes over the ball on a Colombian players ankle but it was a '50/50′ according to Clive and Hoddle.
So it goes to penalties and therefore England must be out as they never win on penalties.
But wouldn't you know it, this is the night all that changes.
It's all playing out as expected as Jordan Henderson's penalty is saved by David Ospina but up steps Mateus Uribe who smashes the following kick off the crossbar.
Jordan Pickford makes a good save from Carlos Bacca and then Eric Dier steps up to squeeze it past Ospina and the English nation goes bananas going by the ITV news pictures later that evening.
Now the English have Sweden in the quarters which is a more than winnable encounter and the way the draw has worked out, horror of horrors, they could make the final.
Ah well, at least my Rowntree Watermelon ice lolly was a storming success.