Egypt 0 -1 Uruguay
Day two aptly gave us game two. This one featured the firepower of Uruguay – one of the tournament dark horses with goal machines Luis Suarez and Edson Cavani up front – vs Egypt whose own goal machine Mo Salah was on the bench due to him still recovering from Sergio Ramos's over-enthusiastic arm lock during the Champions League final three weeks ago.
Not much to report here. The game was pretty poor and reinforced my previously stated worries about there being inevitably stagnant low scoring games in modern contemporary international football tournaments.
Suarez was awful. He missed a sitter at the back post in the first half, putting it into the side netting before then running through on goal in the second and refusing to strike. The goalkeeper gathered and play resumed. In general, his link-up play was non-existent and he had a bad day. Cavani, on the other hand, was unlucky with a fine volley from the edge of the box looking goal bound before a good save from the Egyptian keep whose name I haven't bothered to look up yet. He also smacked the inside of the post with a ferocious free-kick from the edge of the box.
Egypt were praised by the commentary team for their 'plucky underdog' resistance but they presented little to no goal threat and seemed to be devoid of any actual talent outside of Salah who looked on strangely rather happily from the bench. His smile quickly disappeared through when Uruguyuan centre back José Giménez rose like a salmon in the dying embers to head the ball into the Egyptian net from a corner. And that was that. Game over.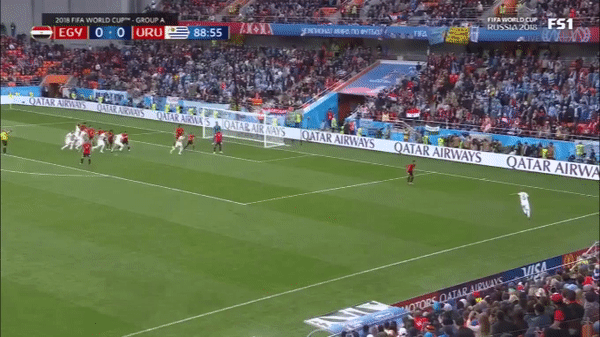 Despite five minutes added time there was no way Egypt were suddenly going to present an attacking threat, having not done so all afternoon. Salah wasn't put on late as expected to try and make a difference. Some great tactical management there from the Egpty coach who will now have to start him in their next game against the hosts if they are to have a chance of qualifying into the knockout rounds.
Iran 1 – 0 Morocco
Later on that afternoon we got the one we'd all be waiting for…………..Iran vs Morocco. By we, I don't actually mean me or anyone I know but pretty much everyone in Morocco and Iran.
I couldn't name one Moroccan or Iran player off of the top of my head but the Moroccans came into the match on the back of a ten game unbeaten streak – winning eight and banging in 23 goals – and being told for the sixth time that they'd failed to secure the World Cup again having lost out to the combined USA/Mexico & Canada bid for the 2026 tournament.
The game was pretty much a non-entity and what you fear may occur at World Cups when bang-average teams make it through. In the end, it was aptly decided by a late Aziz Bouhaddouz goal via a magnificent diving header in the 95th minute. Wonderful stuff from the Moroccan striker but the only problem was it was into his own net so Iran won it 1-0.
For Morocco when it rains it really does pour.
Portugal 3 – 3 Spain
The day's underwhelming action was ended with a rather spectacular encounter between Portugal and one of the tournaments favourites Spain.
Seldom do the big encounters live up to the billing but this one did.
I actually watched it in a packed pub close to central station in Glasgow with a Polish girl. It was her idea, not mine so I didn't feel too guilty about nodding my head occasionally when she spoke so as to feign interest whilst staring over her shoulder at the big projector at the other side of the bar. Though I gave the game away by suddenly blurting out such things as "No way!", "What a goal!" and "Did you see that?"
She enjoyed the game to though as did everyone watching around the world I'd imagine.
I'm not a big fan of Cristiano Ronaldo. I'm more of a Messi man myself and in this day in age, you're either one or the other. But he fairly delivered the goods as he put his nation ahead twice scoring a penalty, a soft goal after a mistake from the Spain keeper and then delivering a dramatic late equaliser via a spectacular free kick from 30 yards. Apparently, it was his 45th free kick attempt at a major international tournament and his first goal. Messi's record is much better.
In amongst, all of the Ronaldo magic Spain also came from behind twice and even went ahead for most of the second half. Their Brazilian striker Diego Costa scored a lovely edge of the box finish and then one even I could have scored via a tap-in on the line though safe to say I'd have probably been beaten to the ball in the first place by just about everyone in a Portugues jersey. Spain's third was a goal of the tournament contender as José Ignacio Fernández Iglesias aka Nacho rattled a sublime first-time volley in off the post. But after Ronaldo's late peach of a free kick, he stole the headlines…..again.
What a night. It really was quite a match. And the football was not bad either.
Maybe, just maybe this will be a World Cup to remember after all.
Continue reading: