England 6 – 1 Panama
It's every Scotsman's worst nightmare as the day begins with England delivering a record-breaking victory as they register their biggest ever World Cup finals victory.
Panama – who are effectively a team of milkman and plumbers – got away with it for 45 minutes at least in the first game against Belgium but England aren't in such charitable mood and are incredibly 5-0 up by halftime.
The Panamanians are a disgrace in the first half as they employ just about every illegal move in the book to absolutely no advantage whatsoever.
Jon Stones buries a header from a corner eight minutes in whilst the Panamian defenders are far more concerned with molesting his teammates off the ball.
They then are awarded a penalty when Lingard is double teamed in the box and despite delaying the game for several minutes with nonsensical protests and attempts to put penalty taker Harry Kane off, the Spurs striker buries it.
Jesse Lingard scores a beautiful goal from outside the box to make it 3-0 and then they work a free-kick well from the edge of the box before Stones heads his second with the keeper helpless after Raheem Stirling had missed a sitter.
Harry Kane is then assaulted in the box by Aníbal Godoy which inevitably leads to another penalty and he duly converts again.
In the second half, the game slows to a training session mode and Kane gets a bizarre hat-trick when a speculative Loftus-Cheek effort deflects in off his heel.
But then we get one of the moments of the tournament when Felipe Baloy slides in from a free-kick to send the ball into the net and claim Panama's first World Cup goal which leads to hilariously over the top rapturous celebrations from their fans. God love them.
The game ends and the nightmare is over.
God, they're not gonna win this are they?!
Japan 2 – 2 Senegal
The tournament is in full flow now and game two of the day is one of the best games yet as Japan and Senegal go at it hammer and tongs in an end to end thriller that I watch excitedly from my couch, still hungover from my shenanigans the night before.
Liverpool's Sadio Mané open his account after eleven minutes Eiji Kawashima punches a low ball off of his shins and into the net.
Kawashima really is a special keeper. He was at Dundee Utd in Scotland a few years ago and really was awful. Only God knows how the hell he's made a living out of the game never mind collected 85 caps for Japan.
Takashi Inui equalises for the Japanese on 34 minutes with a lovely curling shot from the edge of the box and the game has a relentless end to end feel about it.
In the second half, a low cross cuts across the Japanese goal with no takers or defenders on hand until it is met at the back post by Moussa Wagué who lashes it home and it looks like my second accumulator in two days is coming in.
But Keisuke Honda gets on his bike and strokes in an equaliser from close range after some calamitous defending at the back from Senegal merely moments after the BBC commentary team had talked about how good their central defenders were.
Colombia 3 – 0 Poland
It's the final game of the day and both nations are pretty much teetering on the brink here going on.
Both were fancied to emerge from the group but a rush of blood to the head for Colombia's Carlos Sanchez in their first game and a general malaise around the entire Polish team in their opener means that both teams really need to win this one.
Poland plays better but Colombia's star men show up and they produce in my opinion the performance of the tournament so far as they put the Poles to the sword.
Yerry Mina rises high to head the world's leading cocaine producer ahead with only five minutes remaining before halftime and Carlos Sanchez must have released a huge sigh of relief watching from the stands as he'd received death threats from back home after his sending off minutes into their game with Japan had ultimately led to their opening game downfall.
In the second half James Rodriguez – one of the breakout stars of the last World Cup – turns on the skill and conducts his nation to an impressive showing with Radamel Falcao – who's last WC was ruined by injury – securing the points after 70 mins with a lovely outside of the foot finish and then Juan Cuadrado races clear five minutes later to put the icing on the cake and confirm Colombia as one of the true dark horses of this year's tournament.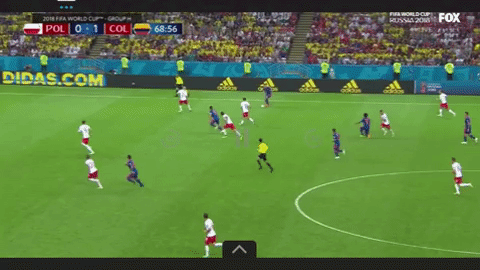 The legendary characters of World Cups past, the man with the golden afro Carlos Valderrama and maverick keeper Rene Higuita look on, high as kites. They really are a delight to watch when in full flow.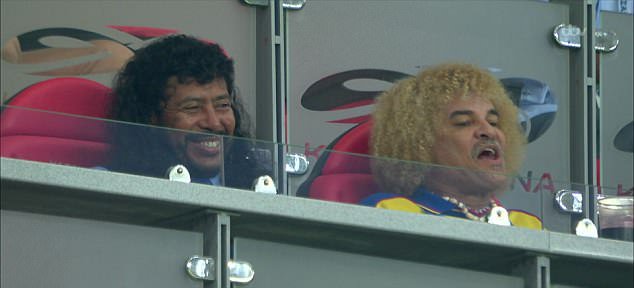 The Poles are better than they were against Japan – though they couldn't get any worse – but even the great Lewandowski can't make a significant impact and that's them and their beautiful female fans that the TV director seemed obsessed with heading home.
The Polish girl I'd been out with the week before messages to tell me how disappointed she is. Maybe I will get that second date after all.