England 2 – 0 Sweden
It's getting too close for comfort now.
England are in the quarterfinals and have a good chance of beating Sweden especially as the Scandinavians are without the legendary Celtic right-back Mikel Lustig who is suspended.
I go up to the west end of Glasgow for this one to meet a friend.
No more outside pubs as the glare and lack of commentary just aren't right.
No, we're indoors for this one at The Rock in Hyndland to be exact.
By we I mean myself and a friend, I used to work with who has been out to all hours the night before and looks like he got dressed in the dark. He's in one of this euphoric 'morning after the night before' still pissed zones and the booze is reeking from him.
Should be a fun afternoon.
Anyway to the game itself and England look the better team and take the lead on the half-hour mark when big Harry Maguire rises high unopposed from a corner to head them into the lead.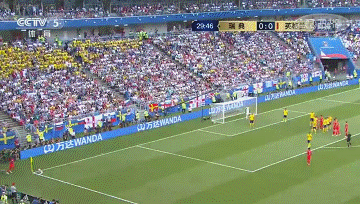 One guy in the pub has the courage to cheer but quickly retreats behind a pillar beside the bar.
It's a grim atmosphere so we step outside into the sun.
My accomplice is also looking to offload some Justin Bieber tickets that his missus no longer wants.  They cost over 100 quid a head but no one wants them so eventually, he flogged all three of them for the price of one.
The two buyers are coming up from Livingston and he goes down to meet them only to realise they are lost. He then staggers around outside looking like……well a drunk guy looking for lost tickets I guess. You can see the husband of the girl who has come to collect them is clearly raging – could you blame him? – but the day is saved when the tickets are located on a bench table outside. 
That's one crisis averted so we go back inside hoping another one can be too and that the Swedes can put an end to all of this incessant 'It's coming home' pish that seems to be on the TV every two mins for another two years at least.
But disaster strikes again as Deli Alli heads home a second at the back post on 59 minutes.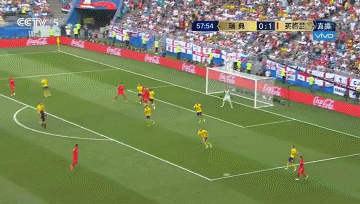 I'm starting to get pretty concerned now.
Sweden suddenly gets the finger out and they actually carve out some good chances but Jordan Pickford makes some very good saves and England have their own opportunities to kill the match at the other end but the ball keeps on falling to Raheem Stirling who is a guaranteed bottler when one on one with the keeper every time.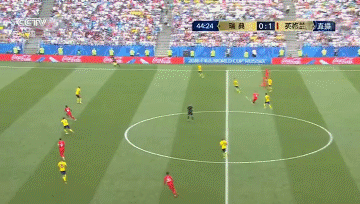 It doesn't matter though as the scores stay the same and southern part of the island goes bananas with folk invading Ikea to jump on beds and ambulances getting jumped on in the streets as the English fans celebrate as only they know how.
We could be on the cusp of an absolute disaster here. I really am getting a bad feeling about this.
Surely not.
Croatia 2- 2 Russia
(Croatia wins 4-3 on penalties)
The final match of the quarter-finals and undoubtedly the most dramatic as the hosts face off against the fancied Croats.
Russia has really punched above their weight to get this far and it isn't inconceivable that they could now get to the semi-finals which would be incredible considering they started the tournament as the lowest ranked team.
I watched the first 15 minutes of this in a different bar which had a packed beer garden so had to go inside.
By this point, my friend had departed for home and I had declined his offer to join him. I figured one last beer and a taxi home would prove a better option than watching him puke his guts out while trying to watch the game from his sofa.
I went into the Record Factory beer garden, which was mobbed, so went into its dark cavern like interior instead.
My taxi arrives pretty promptly so I head off about 15 minutes into the game and arrive home just in time to see Cheryshev – undoubtedly Russia's star man of this World Cup – lash in a peach of an opener for the hosts just after the half-hour mark. Gary Neville later blames the keeper but he's talking rubbish.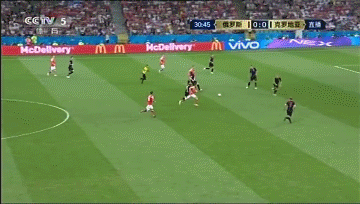 The incredible joy of the Russians though was short lived and Andrej Kramaric stooped to head in a Croat equaliser only eight minutes later after some nice wing play by Mario Mandžukić.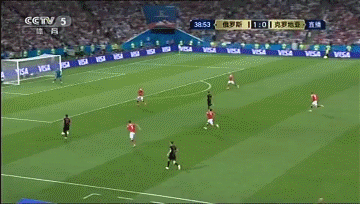 The second half proved quite a tight affair with an Ivan Perisic strike off the post the closest either side came to scoring.
So into extra time again for both nations who had won through via penalties in their respective games in the last 16.
Domagoj Vida- who wouldn't look out of place on a surfboard somewhere – thought he'd put the Croats into the semis with a near-post header at the end of the first period of extra time and the hosts looked down and outski.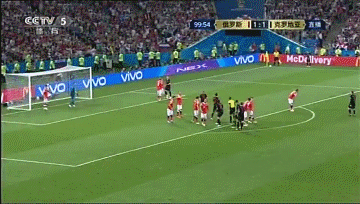 But Russia had one last moment of magic left in them and their imported Brazilian defender Mário Fernandes headed in a dramatic equaliser late on and the nation erupted one last time as the Big Red train kept on moving towards a highly unlikely semi-final spot.

Alas, it proved not to be though as this time their luck ran out on penalties as Croatia's continued from the spot kicks.
Fyodor Smolov took a howler of an opening penalty for Russia as his attempt to place it delicately down the middle was so laboured that it allowed the Croat keeper Danijel Subašić the chance to dive, realise what was happening, reset himself and clutch the ball the ball away from goal.
Mateo Kovačić then missed for Croatia but then Fernandes went from hero to villain as he fluffed his lines and it was advantage Croatia again.
For the second game in a row, it was ice cool Ivan Racitik who slotted away the decisive kick and Croatia with a population of a mere 4.2 million are in the final and dare to dream.